Loma Ridge Report
A Weekly Newsletter From Mrs. Berumen
Back To School Night
We are looking forward to welcoming parents to our Back to School Night (BTSN) on Thursday, September 5th at 6:00 PM in the Activity Center. Our presentation will begin with school-wide information for all parents from 6:00-6:30 PM followed by classroom visits and a Q & A opportunity with your child's teacher from 6:30-7:00 PM. You will receive the presentation about your child's classroom electronically from your child's teacher by Tuesday, September 3rd so that you can review it and come prepared with any questions you might have on Thursday evening. We call this approach a "Flipped BTSN" which means you have the information normally presented at the BTSN prior to the event which gives you the opportunity to learn about the classroom, construct thoughtful questions and come prepared to ask them during the classroom visitation portion of the BTSN. There will be no formal presentation during the classroom portion of the BTSN. Our staff looks forward to the casual atmosphere as an opportunity to get to know the parents of our students and to answer questions that will assist in ensuring a positive experience for our students this year. This event is intended for parents only - students should not attend. We look forward to seeing you Thursday evening!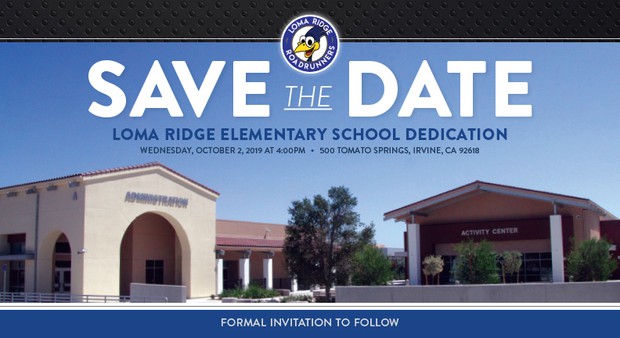 School Site Council Members Needed
As a brand new school, we are seeking candidates to run for our school site council. The school site council is comprised of five parent/community members and five staff members. The unit reviews the site level action plan and is informed of the school's expenditures that meet those actions. Additionally, our council members have the unique opportunity to learn in more detail about the inner workings of our school and activities/events that impact the education of students here at Loma Ridge. Our council meets approximately five times per year for meetings and walk through experiences. We will need to elect five parent members this year since we are in our inaugural year and creating our council. Please e-mail me if you are interested and would like more information at jennaberumen@iusd.org by Tuesday, September 3rd if you are interested in running for a membership position.
Keep Me Home If...
A reminder from our health office to keep your child home from school if he/she:
is vomiting
has a fever
has diarrhea
has a sore throat
has an eye infection
has a rash, lice or nits
is just not feeling very well
Also, please remember that your child must be fever-free without medication for 24 hours in order to return to school. Thank you for helping us to keep our school environment as healthy as possible!
Volunteers Welcome
Loma Ridge welcomes and values our volunteer parents. Without volunteers, many programs and activities offered at our school would not be possible. Parents will be given opportunities to sign-up to help in the classroom, and to assist with various events taking place throughout the school year.
In the interest of safety, we do ask that all volunteers report to the office to sign in through our automated computer system. At that time, volunteers will be issued a badge to wear, indicating to the students and staff that they are authorized to be on campus. The volunteer badge must be worn at all times when on school grounds.
All volunteers must complete an IUSD Volunteer Registration & Screening Information form online prior to volunteering. This form is completed at the beginning of each school year. Once the form is completed our front office can sign you in the first time. Additional information about volunteering is available on the district website here.
Noon Duty Assistant Opportunities
We are looking for Noon Duty Assistants to supervise our students at lunch and recess. If you or a friend enjoy being around children and value positively supporting them, we welcome you to apply for the Noon Duty Assistant role for IUSD via edjoin.org. Please email April Ryan at aprilryan@iusd.org if you are interested. Thank you for spreading the word about this opportunity!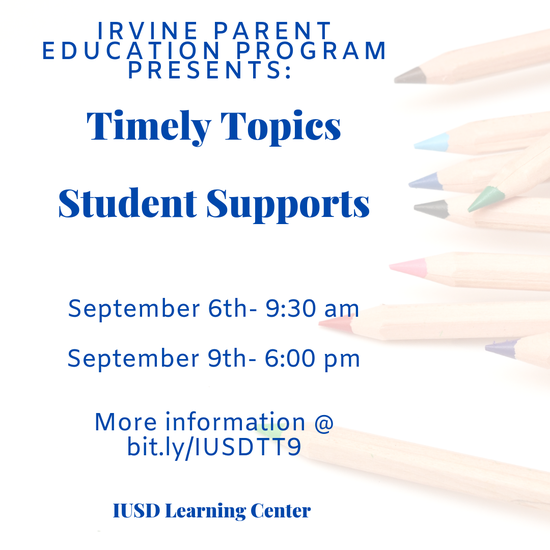 Drop-off & Pick-up Reminders
The parking lot directly in front of the school is designated for drop off and pick up in the lane closest to the sidewalk. Please follow the directions on the A frame signage and refrain from leaving your car unattended. Please pull all the way forward before having your child exit or enter your car. Please be sure that your child is ready to leave your car prior to entering the drop off lane. This parking lot is also open for parent and visitor parking.
The parking lot on the side of the school is for staff and kindergarten parent parking only. Kindergarten parents must park and walk their children to the kindergarten line-up area at the black gate and/or within the kindergarten play area depending on schedule. This parking lot will also be available to Rainbow Rising parents to park and drop-off/pick-up before and after the school day.
Both parking lots require a right turn only when exiting the lot. Parking on Tomato Springs is only permitted on the school side of the street. Please refrain from parking on the opposite side of the street. IPD will enforce the parking restrictions by ticketing cars. Thank you for following these guidelines and ensuring the safety of our students, staff and community members.
PTA Volunteers Needed
For 50 years, the REFLECTIONS Program by the National PTA has provided opportunities for students to express themselves creatively and to receive positive recognition for original works of art. Students would submit their completed works in one or all of the available art categories: Dance Choreography, Film Production, Literature, Music Composition, Photography, and Visual Arts. Entries are judged and are given an opportunity to advance through several levels of competition from Loma Ridge's school level PTA and on up to the National PTA level. This year's theme is LOOK WITHIN.
With so many programs and fundraisers currently under development for Loma Ridge's inaugural year, the PTA has a committee formed to help run the REFLECTIONS program, but is looking for a volunteer to be the Reflections Chairperson for this year's event. Some responsibilities for the position include: Overseeing the committee's planning and implementation of the program; Promoting the program to students, teachers, parents, and the community; Recruiting other committee members; Collecting student entries and verifying eligibility requirements; Coordinating local judging; and Returning entries to students. If you are interested in chairing this committee - please contact Susan Gunn at Programs@LomaRidgePTA.Org.
Unfortunately, if we are unable to find a chairperson by September 2nd, we will likely forego participation in the Reflections program this year.
For more information on the program, visit https://capta.org/programs-events/reflections/.
Cafeteria News - Lunch Service Only
This is a friendly reminder that our cafeteria will be open for lunch service only this year. Please be sure to send your child with a small snack for morning recess if he/she is planning to buy lunch. Hydration stations are located throughout our campus and include access to filtered water. Please send your child with a personal water bottle so that we ensure adequate hydration on these hot summer days.
Shop and Earn for Loma Ridge
We are proud to have our first shop-n-earn for our PTA with Community for Cause. Download the app on your smartphone, select Loma Ridge Elementary for your cause, and scan your receipts. We will start earning money each time you shop. There's over 1,000 CFC merchants including: Peppino's, Juice It Up, and SportClips just to name a few. Thank you for your support!